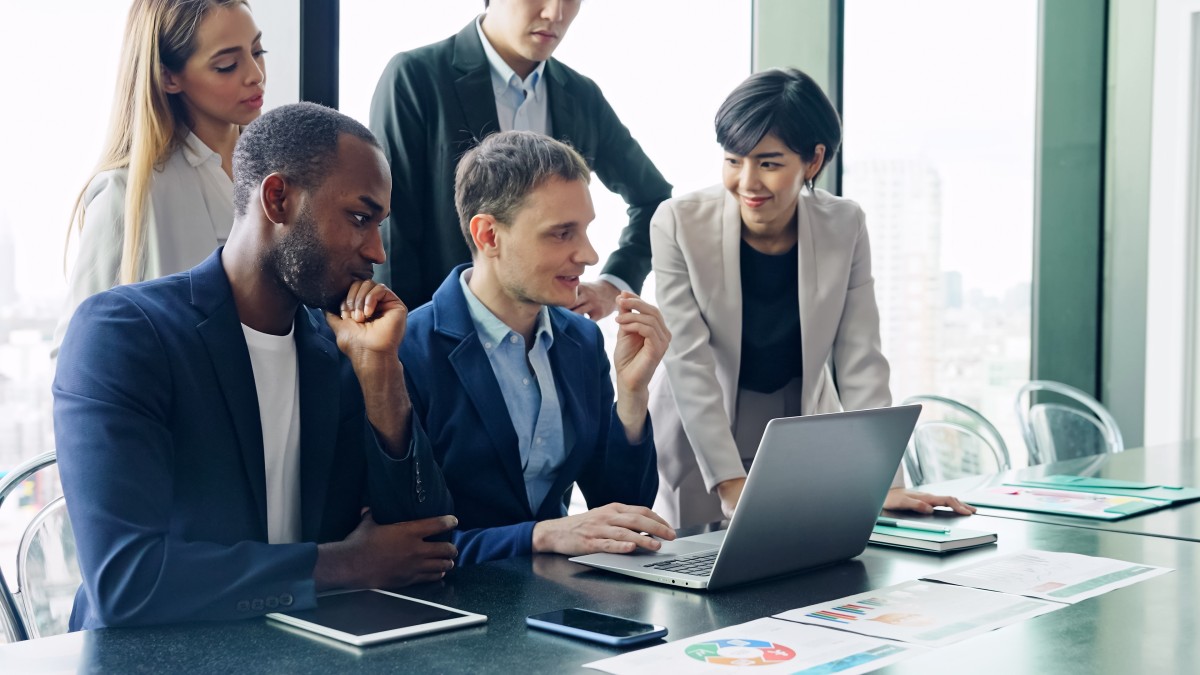 In 2020, the House Financial Services Committee in conjunction with the Diversity and Inclusion Subcommittee, sought to gather data from 44 of the biggest banks in the U.S. to help determine whether diversity and inclusion efforts were in place and prioritized. The reason for the report? There's a widespread understanding that, given the history of banking and financial services, diversity and inclusion efforts are still falling a bit short.
In fact, while efforts to open the industry up to women have been more successful lately, efforts to diversify when it comes to race still have a ways to go. Currently, 68.8% of financial service professionals are men and 67% of all professionals are white. However, the country as a whole is diversifying far quicker than financial services. Good business sense dictates that diversity and inclusion will be a key aspect of business growth for nearly every industry, but especially financial services.
Quick Links
What are Financial Services?
Financial services include just about everything within the financial services sector which provides money management from banking and investing to estate and tax planning. These financial services include any financial institutions from banks and investment firms to credit card companies and insurance agencies. For the purposes of our further discussion, we'll focus specifically on financial advising and financial firms that offer those services.
What is Diversity and Inclusion in Financial Services?
Diversity and inclusion, though grouped for the purposes of discussions and, often, goal setting, are two separate concepts. Diversity refers to the representation within the workspace for minorities and underrepresented populations including women and racial minorities. Inclusion, on the other hand, is about how those individuals are heard, respected, valued, and included within the organization and its major decisions.
In the financial services sector, this plays out in two separate ways relating to both the organization itself (both its leadership and employees) and its clients. More specifically, financial services firms need to be asking not just how they're diversifying their employees and C-suite offices, but also what they're doing to attract, retain, and engage with a diverse client base as well.
It's also worth noting that several studies suggest that simply investing in diversity and inclusion initiatives has the potential to not only boost employee performance and engagement by as much as 14%.
Diversity and Inclusion in Financial Service Firms
When it comes to diversity and inclusion at financial service firms, leadership, and those invested in diversity and inclusion efforts, need to be approaching it from both internal and external perspectives. Firms must consider how they are attracting, retaining, and engaging underrepresented employees, and then promoting them from within or providing them with leadership opportunities.

Additionally, firms must consider how they are reaching out to those same groups through their prospecting and marketing efforts and then consider how they're tailoring their services to meet the needs of those communities. We'll discuss more about attracting and retaining diverse clients later.

In terms of diversity and inclusion within a firm, several factors have been identified as having a significant impact on a firm's ability to first attract diverse talent, but also to retain them. Those factors include:
Representation

First and foremost, potential talent who sees themselves reflected in leadership is more likely to believe they will have opportunities within your organization and, as a result, may be more eager to work in your financial services firm. Representation, particularly in leadership positions, is also reflective of inclusion, meaning that it suggests that underrepresented communities have a seat at the table. Currently, minority representation lags in the financial services industry as just 3.5% of financial advisors are Black or Latinx/Hispanic.
Mentorship Programs
Another major factor that impacts diversity, particularly as it relates to retention and representation in leadership or senior positions is the lack of sponsor or mentorship programs within an organization. While all employees will encounter challenges to their growth, the challenges faced by minorities and women in the workplace are often not understood by those who have not incurred the same obstacles. As a result, mentorship programs can be quite successful in not only helping talented employees overcome barriers, but they also aiding in employee retention and representation. In fact, one study found that mentorship programs increased minority representation in leadership positions from 9-24%!

Flexible Schedules
One of the things about financial advising that has the potential to attract women to the field, in particular, is the possibility of creating flexible schedules. Women, who are statistically and traditionally fulfilling caregiving roles, require flexibility to meet the needs of balancing work and life. From work from home options to compressed schedules, finding ways to facilitate and enable flexibility is appealing to women, in particular, but more and more, everyone is looking for this kind of flexibility.

Engagement and Buy-in from the Majority
Given that white men still make up a majority of financial advisors, especially those in leadership positions, participation in diversity and inclusion efforts from these individuals is essential. Often, diversity and inclusion are dismissed as a one-off training opportunity with a guest speaker who discusses these issues with the representational majority. However, organizations that invest in ongoing efforts that include white men among committee positions and diversity and inclusion initiatives see greater results.

In fact, white men who participate in these actions demonstrate that diversity and inclusion is an organizational imperative rather than a problem for minorities and women to solve on their own.
Diversity and Inclusion in Client Acquisition
Perhaps one of the biggest challenges facing minorities who seek financial advisors and financial advice is the lack of representation among financial advisors. The key to attracting and retaining diverse clients is to ensure that advisors look like the clients they're hoping to attract. Currently, racial minorities are severely underrepresented and underserved when it comes to financial services.

In fact, many financial advisors who are currently trying to fill the gaps understand the need for more diversity in advisors for a variety of reasons. Racial minorities experience very specific challenges related to wealth and financial management including:
Inability to find advisors who understand their lives and challenges
Inability to find advisors who speak their language (where English is not a first language)
Gaps in financial literacy across racial divides
Systemic racism and the wealth gap
Cultural approaches to wealth and finances
While educating financial advisors around these issues and the concerns of minorities regarding financial planning and wealth management may help, the truth of the matter is that minority clients, like everyone else, want an advisor they trust and that means understanding, from a firsthand perspective, many of the factors listed above.

The good news is that firms have an aspect of control over this issue. The recruitment, training, and promotion of minority advisors can bridge this gap and help bring in more diverse clients. Diversity can and should be a key component of your business and the conscious choice to create that atmosphere will pay off in the long run in a variety of ways.

If you're ready to talk about recruiting, whether that's finding a firm that meets your needs or recruiting for your firm or RIA, get in touch with the FA Match team today. Much like your clients, you want advice you can trust. Our team has the financial advising and recruiting experience and expertise to help you make the match you need to grow.